Truffle mystery and the Truffle Hunt
Records indicate that truffles have been around since at least the third century BC whether this refers to the black (tuber melanosporum) or white (tuber magnatum) truffle we do not know. But both truffles are to be found in Europe. More recently however, the black truffle has been able to be cultivated and is now grown in a variety of countries, Australia being just one. It's black, lives in the dark, can be found underground — is it an aphrodisiac? is it the devils spawn? is it a seed of the gods? This is just part of the mystic surrounding the truffle.
The Black Perigord Truffle is a type of fungi that has developed a symbiotic relationship with another plant. Black truffles are harvested in the dead of winter when all other activity slows. The starry nights that herald the dawn frosts mean that as the subsoil temperatures are dropping and the black truffles (tuber melanosporum) are beginning to ripen. With winter imminent harvest at Macenmist is about to begin.
Operating since 2008 Macenmist is a tourist hot spot. It has a relaxed feel and charm in resplendent rural surroundings. They have two varieties of trees, Oak and Hazel. These trees supply the carbohydrates to the truffle providing it with the energy to grow. The truffle in return gives the host tree the ability uptake nutrients from the soils that are calcareous and generally littered with stones.
To find the truffle Macenmist uses Lagotto Romagnolo dogs, it's their legendary ability to scent and locate truffles that adds to the excitement of a truffle hunt. It's with thanks to the Italian truffle hunters who in the early 1400s brought the breed back from the brink of extinction and Barbara and Richard are happy to demonstrate this wonderful breed and its abilities. Tours are conducted each weekend during the winter months and after arriving at the truffle barn you will be able to follow the dogs on a truffle hunt then relax and enjoy the wonderful food on offer.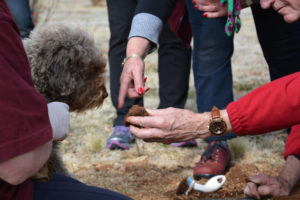 It is a must for the food-obsessed where the seasonality of the truffles enables Macenmist to show-case the black truffles and their hard working truffle dogs. Paramount to the truffle experience is the "paddock-to plate" tours that are scheduled. You can book your choice of event via our website https://www.macenmist.com.au/hunts/.
We look forward to seeing you.