Truffle Long Weekend Part 2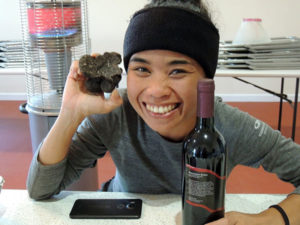 What an amazing way to end the long weekend. We had a visit from Iput Putri and Aaron Fishman from the East Bali Cashews company as they took in the food delights of Australia after attending a producers food festival in Sydney. Aaron would like Macenmist to investigate and produce a truffle cheese and truffle honey, both of which are some of his favourite truffle value-added  products. It was wonderful to spend a few hours with them at the end of the long weekend tasting good cheese, truffle, cashew kale not to mention the glass of wine or two. Many thanks to both of you for taking the time out to visit us and we hope to see you both again soon — hopefully you will be able to join us for one of our "all day" events where after lunch Chef John will show you how to get the most from your truffle.
I would also like to share with you some of my weekend highlights.
The images will show you  how wonderful the truffle smells with people trying to guess the aroma that the truffle emits. Everyone reacts differently to its aroma — some love it, others are not too sure, there are some who do not enjoy it (unfortunately for them), and then there are the children who are honest and will either tell that they hate or love the smell.
BUT
Rather than judge an experience from my blog why not join us at one of Macenmist's events so that you can experience it first-hand.
This weekend we loved to see family enjoying themselves and here Mother, Father and Son enjoyed a day out this long weekend with Tawdiffu, one of our truffle dogs, who did not mind being photographed when they took an impromptu photo of the truffle that they had unearthed (with the dogs help of course). After the hunt they partook in the cleaning and weighing of the harvested truffle.