Truffle Dogs, Hunting and cooking update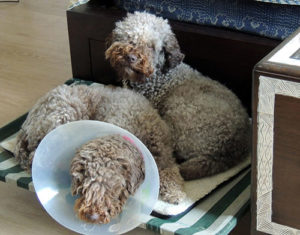 Two truffle dogs keeping each other comforted. Its a week today that Fahren's stitches can be removed. This long weekend she will not be taking guests out hunting for truffle. Tawdiffu will be starring on all three days.
Later today when its time to go truffle hunting again I will remove Fahren's collar so that she can enjoy herself for a short while. Then the collar will have to go back on so that she does not remove the stitches prematurely.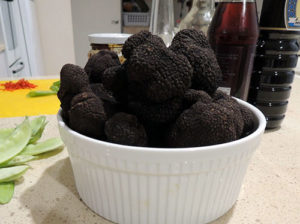 Yesterday, just as the cold fog was clearing Tawdiffu and I went in search for truffle so that the alpine region would be able to serve truffle during the long weekend.
She was quite the little harvester with two new trees producing truffle for the first time. One in the plantation planted in 2012 and the other in the main plantation planted in 2008.
The smell of truffle wafts through our kitchen currently as they are cleaned of dirt ready for dispatch.
As we now have truffle why not start cooking with it so it was out with the butter to make a quick truffled shortbread.
These tiny mouthfuls go really well with a truffled chocolate ganache but true to form they did not last long enough for the ganache to be made. Warm shortbread with truffle YUM.   Tomorrow I will be learning how to cook black truffle and black garlic salsa.